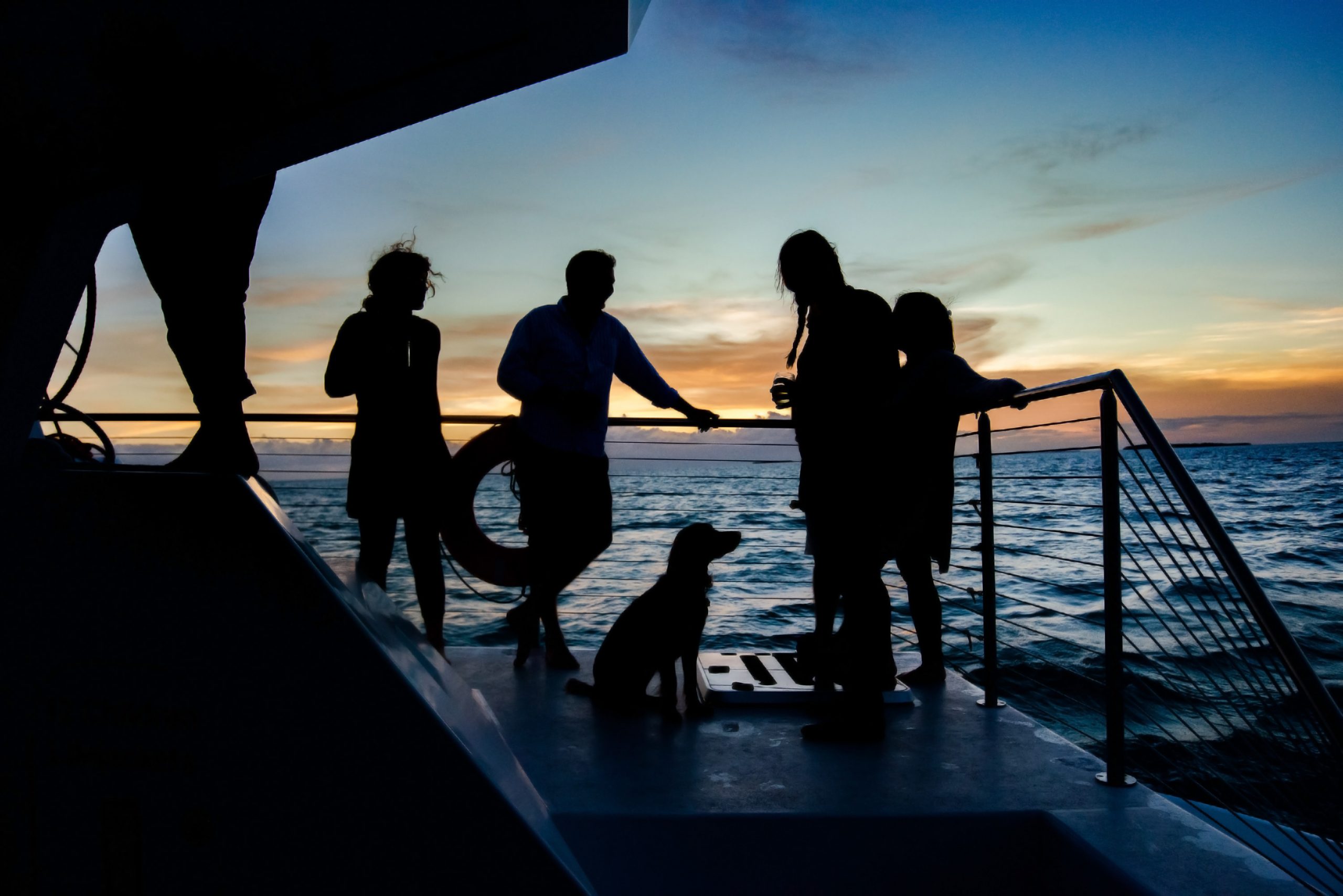 ---
Doug
5 things about me. Hmmm not good at talking about myself. 1- I used to be a project superintendent for multi million dollar commercial construction projects in Colorado, and walked away to live a life of diving, sailing and bar tending in Key West. 2- My favorite color changed from black to any variation of blue when I moved to Key West. 3- I've only been a local since April 8th. 4- I still get nervous before jumping in the water for a dive. 5- I'm happier than I've ever been in Key West! How's that?!?
Lena
1. My full name is Lena Faye Wray. Mom and dad named me after the actress who played King Kongs girlfriend, as well as a famous film maker.
2. I was born and raised in a little town dubbed the Conch Republic
3. 2014-2019 I worked as a PADI Scuba Instructor, and got pretty high up in the ranks. I still fill in from time to time at a local dive shop.
4. Sailing and diving make my heart feel warm and fuzzy.
5. I have a dog named Jazzy. She loves long rides in the bike basket, chasing iguanas, and belly rubs.
Ben
I'm a conch that grew up in three places: Key West, St. Louis, Jerusalem
Instructor for 2 years at the Key West Sailing Club where I've been sailing since I was 6
I make the best popcorn
I'm an avid rock climber
Middle of 5 kids
Favorite meal in key west: Santiago's bodega
Favorite bar in key west: General horseplay

Admiral William Rowan: Owner of the Schooner Hindu
Built a 50' wooden boat in the mountains of Oregon over the course of twelve years, and sailed it with his four sons and their mother Sheila for seven and a half years through South and Central America.
Works as an architect in Key West Fl, and travels with his vessel the Schooner Hindu when possible.
Traveled to Whales with his college rugby team and played against minors from the mines, still covered in dust.
Designed the largest post office in the world.
Slept in front of the Heineken brewery in Holland for a week (where they let him in to eat and drink every day) when he ran out of money at the end of a backpacking trip to Europe in his twenties.
Captain Josh Rowan:Owner of the Bloodhound, Creator of Hindu Charters, Primary Skipper of The Schooner Hindu and the Cutter Bloodhound
Grew up on a sailboat speaking and dreaming in Spanish.
Became a charter boat captain and started a charter business in Key West Fl. at the age of 15 with his parents boat, the Edward D. Rowan, employing several highschool friends who had also grown up on boats.
Studied engineering at Hampshire College and at the Southern Institute of Technology in New Zealand.
Traveled on a KLR motorcycle from Maine to Ushuaia, Argentina.
Has traversed the Panama canal 20 times.
Captain Emyl Hattingh: Part Owner and Primary Skipper of the Argo Navis
Born in South Africa.
Transited the Atlantic Ocean at 17 years old, after which he continued to traveled the world working as a skipper.
Happily married to the best conch in the world, Martha Hooten.
Helped complete building the Argo Navis, and ran high end private charters to Cuba with her before regulations changed.
Has two cats.
Admiral Finnigan: Nautidog Extraordinare on board the Schooner Hindu
Was adopted by the Hindu crew from a restaurant/bar in Key West named Finnegans Wake
Is allergic to the sun! Hence the incredible wardrobe choices
Loves going out on whale watches in Provincetown with her mom Jess, the first female captain of the Dolphin Fleet Whale Watch Charters (Go Jess!)
Rides on the very front edge of the dinghy with her ears flying no matter how choppy the surf
Pulls in dock lines as the Hindu leaves the dock

Ralphie
Marketing Manager
Travis Eddy
1. Has sailed throughout the BVI for several years
2. Has been in three circuses as a trapeze artist
3. Has seen everything Gordon Ramsey has ever produced
4. Trained as a flair bartender in Colorado
5. Started traveling in 2018 and has no home address
Erin Desmond
1. Born in Key West Fl, and grew up working at her parent's Bed and Breakfast, the Fish Creek Inn, in Saratoga Springs, NY.
2. Studied dance and psychology at Bennington College
3. Converted a 40' school bus from Broward County into a tiny home and lived in it for two years while working with adults with mental health and addiction issues and running a homestead farm
4. Writing a comedramady memoir about her life and family
5. Trained to be an ecotour guide in the Key West Florida backcountry with Captain Victoria Impallomeni of Dancing Dolphin Spirits Charters
Andy Moore, Argo Captain
Okay let's see…
I grew up in a college town in Virginia, Blacksburg, where my dad taught; Virginia Tech.
I've been operating vessels for twenty six years
I've been an RN for the past six years.
I enjoy spear fishing, golf, and snow skiing.
I enjoy cooking and Italian is my favorite flavor.
Derek Hoffman
I'm from Nebraska
I played college rugby
Buffalo chicken wings are my favorite food
I do stand up comedy when I have time
I like watching sunsets.